The O-Model Guitar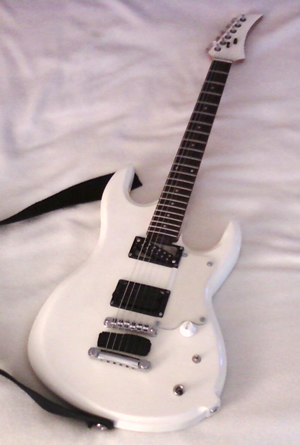 This O model is the original guitar design based on a culmination of influences. This photo is considered a prototype. The build is a double cutaway body with a stylish concaved perimeter band. It has two pickups, 3 position pickup selector, and a switched-circuit capacitor/resistor combo for high fidelity at lower volumes. It also has a rosewood fingerboard, high quality tuners, and roller string retainers. The final product will have a slightly more refined body shape and matching pickguard. The pickups will be DiMarzio in neck and bridge positions.
The neck will be shellaced with finished and polished frets (including the fret ends). It will have a single 500K volume pot with no tone pots. We will offer a push/pull pot which includes a tone circuit for anyone requesting that feature. The placement of the pots and switch will be carefully designed in order to allow the player instant access. They will be slightly different than the prototype in this photo.
At this time, the guitar is still in the final design and preparation phases.