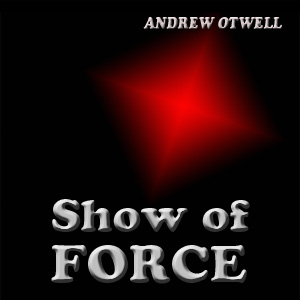 SHOW OF FORCE, INSTRUMENTAL ALBUM
Tracks:

#1 Show of FORCE - Opus 105
#2 Rush of Faith - Opus 110
#3 Peace Treaty - Opus 109
#4 Make it Snappy - Opus 103
#5 Blue Sky High - Opus 79
#6 Take a Walk - Opus 102
#7 Majesty - Opus 108
#8 Rolling Rumble - Opus 111
#9 Raucus Rhythm - Opus 112
This is the third album recorded by Andrew T. Otwell. It is an instrumental heavy rock band album. This album is a continuation of the sound and aura of the debut and second album. The band is a 7 piece band with multiple guitars, bass, keyboards, heavy drums and percussion. Continue adding to your OtwellMusic collection with this album. This album is currently pending recording and is not yet available in audio format.

Please send questions or comments to: Info@OtwellMusic.com
Copyright © & Ⓟ 2018 Andrew Otwell/Otwell Music, LLC. All rights reserved.