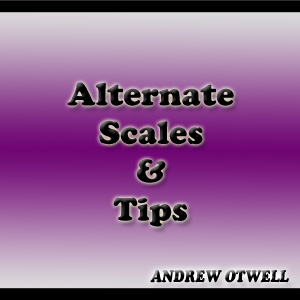 ALTERNATE SCALES AND TIPS (for Guitar)
Sections:

Modal scales (Dorian, Phrygian, Lydian, etc)
Blues scales
Minor Blues scales
Pentatonic scales
Chromatic scales
These scales are arranged by Andrew T. Otwell and include narration for tips and tricks. These were designed around centuries-old models for developing fingerboard mastery. These scales can be played in a box form or in linear form across the fingerboard. They also promote proper pattern development, cognitive recognition, and harmonic correlation (chord patterns to scales). This also includes tips and tricks for implementing across chord changes.

Please send questions or comments to: Info@OtwellMusic.com
Copyright © & Ⓟ 2018 Andrew Otwell/Otwell Music, LLC. All rights reserved.