CLASSICAL CHAMBER WORKS
ATLANTA - November 6, 2014 - Otwell Music, LLC today announced the release of the Classical Chamber Works which are all ready for sales and distribution (exclusively through OtwellMusic.com®).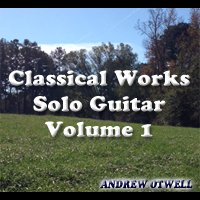 This collection of classical chamber works are professional quality works which will entertain domestic and international audiences. They are packed with multiple textures and moods which can we used as part of a classical concert or as a dedicated concert. From classical guitar to violin and piano ensemble, the works provide a challenge to the player while also maintaining the interest of the listener.
"These works were composed over a period of two years and were a lot of fun to compose. I am very happy that they are now available for sales and distribution in order to get my music out in the halls and in the heads of listeners everywhere." said Composer/Guitarist Andrew Otwell. "The solo works provide multiple voices to simulate a lead player and backup harmony. The violin and piano works involve good interplay between the instruments which ultimately entertains the players and listeners alike. These works started the Otwell Music, LLC product lineup. This venture has been a lifetime in the making and I couldn't be more excited about the opportunity."
About Andrew Otwell
Andrew Otwell has been performing music for over twenty years on various instruments. From rock bands, marching bands, orchestras, and chamber music ensembles. He was received formal music training through the Atlanta Institute of Music, The University of West Georgia, and Clayton State University. His music compositions are available in two different genres; rock instrumental and classical. Both styles of music are available through OtwellMusic.com®.
About Otwell Music, LLC
The mission of Otwell Music, LLC is to compose, record, publish, sell and distribute recorded, printed, and electronically published music to an audience of dedicated music lovers. We also provide educational materials and guitar lessons.
To learn more about Otwell Music, LLC visit OtwellMusic.com® or Follow on Facebook and Twitter.