MUSIC PUBLISHED THROUGH ONLINE RETAILERS
ATLANTA - February 24, 2016 - Otwell Music, LLC today announced the release of digital music through popular online retailers such as iTunes, Google Play, CD Baby, Spotify, and many others. The two albums currently available are Master Overdrive and Defender Of Fate. This step toward modernization allows customers to purchase directly from their phone for immediate download and backup storage in the cloud. This also allows Otwell Music, LLC to branch out and create additional channels of distribution for the modern era.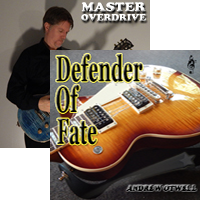 "I am excited to offer my music through multiple channels and believe this will make online purchases less of a concern since millions of customers have trusted and leveraged these popular online music retailers." said Composer/Guitarist Andrew Otwell. "The more channels we have for distribution, the more doors can open. I also joined ASCAP which increases my channels of business relationships. Self-employed ventures such as Otwell Music, LLC can use every opportunity available to promote music distribution. I believe this was the proper next step for this musical endeavor."
About Andrew Otwell
Andrew Otwell has been performing music for over twenty years on various instruments. From rock bands, marching bands, orchestras, and chamber music ensembles. He was received formal music training through the Atlanta Institute of Music, The University of West Georgia, and Clayton State University. His music compositions are available in two different genres; rock instrumental and classical. Both styles of music are available through OtwellMusic.com®.
About Otwell Music, LLC
The mission of Otwell Music, LLC is to compose, record, publish, sell and distribute recorded, printed, and electronically published music to an audience of dedicated music lovers. We also provide educational materials and guitar lessons.
To learn more about Otwell Music, LLC visit OtwellMusic.com® or Follow on Facebook and Twitter.