GUITAR SOLOIST TRADE SECRETS
ATLANTA - November 27, 2014 - Otwell Music, LLC today announced the release of the GUITAR SOLOIST TRADE SECRETS which is now ready for sales and distribution (exclusively through OtwellMusic.com®).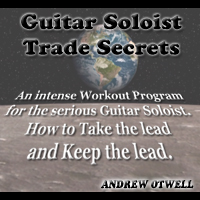 This intense soloist trade secrets program is packed with expert knowledge learned through Atlanta Institute of Music, studies with Doctoral professors in the University of West Georgia and Clayton State University, private lesson instruction from professional musicians, hundreds of performances, lessons learned in hindsight, dozens of books and articles, and a decade of giving private music lessons. Every lesson takes another step toward developing the student into a smarter and more seasoned guitar player. This is considered a four part fine arts music program rather than an inexpensive guitar method book. Topics include fingerboard mastery, music theory and composition, musical styles and composition guides, equipment tips, and the art of performance.
"This program is a culmination of everything I have learned and placed into music and words. The program was developed for guitar players; by a guitar player/composer." said Composer/Guitarist Andrew Otwell. "Everything we learn builds on material previously learned. This program was designed to give you a solid foundation, broad exploration, and advanced tips and tricks to accelerate the process of becoming a professional quality player. This program enhances the Otwell Music, LLC product lineup. This venture has been a lifetime in the making and I couldn't be more excited about the opportunity."
About Andrew Otwell
Andrew Otwell has been performing music for over twenty years on various instruments. From rock bands, marching bands, orchestras, and chamber music ensembles. He was received formal music training through the Atlanta Institute of Music, The University of West Georgia, and Clayton State University. His music compositions are available in two different genres; rock instrumental and classical. Both styles of music are available through OtwellMusic.com®.
About Otwell Music, LLC
The mission of Otwell Music, LLC is to compose, record, publish, sell and distribute recorded, printed, and electronically published music to an audience of dedicated music lovers. We also provide educational materials and guitar lessons.
To learn more about Otwell Music, LLC visit OtwellMusic.com® or Follow on Facebook and Twitter.