MASTER OVERDRIVE album
ATLANTA - November 12, 2014 - Otwell Music, LLC today announced the debut album titled MASTER OVERDRIVE is completed and ready for sales and distribution (exclusively through OtwellMusic.com®). This album features Andrew Otwell as composer and performing band leader (on guitar).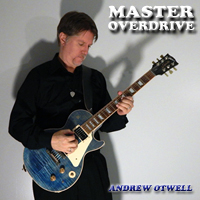 The album is packed with soaring leads, hard driving rhythms, and impressive instrumentation for 7 piece band. With over an hour of music, every moment provides rich musical content, instrumentation, and interplay. The music was inspired by virtuosic lead guitar players (such as the G3 concert series) and intricate instrumental grooves found in heavy rock and even metal genres. The band is comprised of multiple guitars, bass, keyboards, heavy drums and percussion. If you are a music aficionado or an audiophile, this is this is definitely an album you want to add to your collection.
"This album is a culmination of all my creative energy and talents. I hope this album will inspire other players as much as my predecessors have inspired me," said Composer/Guitarist Andrew Otwell. "This album release also represents the beginning of Otwell Music, LLC - a music publication business. This venture has been a lifetime in the making and I couldn't be more excited about the opportunity."
About Andrew Otwell
Andrew Otwell has been performing music for over twenty years on various instruments from heavy rock bands, marching bands, orchestras, and chamber music ensembles. He was received formal music training through the Atlanta Institute of Music, The University of West Georgia, and Clayton State University. His music compositions are available in two different genres; heavy rock instrumental and classical. Both styles of music are available through OtwellMusic.com®.
About Otwell Music, LLC
The mission of Otwell Music, LLC is to compose, record, publish, sell and distribute recorded, printed, and electronically published music to an audience of dedicated music lovers. We also provide educational materials and guitar lessons.
To learn more about Otwell Music, LLC visit OtwellMusic.com® or Follow on Facebook and Twitter.